dream a little dream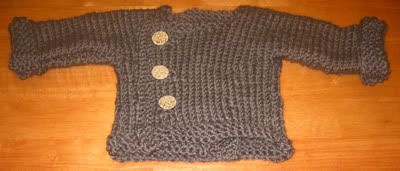 This is the first sweater I have designed on my own. Sure, I borrowed some basic ideas, but I am the designer of this garment. It's a heavy sweater for the boy, and it's using the same old Rowan Chunky Print I've been knitting for a while. We'll effectively have matchypoo sweaters for the pictures that will just add to the stack of blackmail material or just material to show to the future girlfriends/wife. It is a mother's rite and obligation. Of course, mine is more ornate and girly while his just reflects the arty man-style that he has.
Now to come up with a solution for the rest of this yarn... I think I have 2 temper left and 1 native... hmm... suggestions?
On to the dreaming (and possibly drooling) about yarn and the hopefulness and possibility that it gives us all. I have decided that is why I was so obsessed with taking a photo of my new yarn -- it's an image of hopefulness, of a goal possible to attain. (sigh) AHYC had their annual birthday sale this past Friday, and, as expected, I stocked up. Of course, now I realize I SHOULD have gotten more and I will next year when it's the sale again.
This is some ggh Savanna that I got for a UT scarf for my mom. The picture is a little washed out, but I'll do another when it's finished. It's pretty pumpkin-y, so she'll enjoy it with her fall clothes anyway since orange is one of her favorite colors. I'll have to say that I bought it as a joke, but I am enjoying the results. The yarn is a single ply, and it feels nice despite being a blend. The color is just so earthy and delicious. I do SO love a mistake rib pattern, and it's just fun enough to keep me happy through endless hours of tv. Of course, I say this as if I have endless hours to do anything at once. If I had endless hours, this yarn might have already been knit up into something amazing!
Now, this, my dear readers, is something about which to dream. I find myself lost in possibility when I imagine how this yarn will look all knitted and put into its place. Then comes the twisted part. I cannot WAIT to steek (read: cut) the sweater I will make out of this. The idea of the anti-craft is so compelling that I cannot even explain. To imagine that I could do this is the most amazing part. Just a few months ago, I was watching an instructional dvd that the baby girl so affectionately titled "your knitting movie, mommy?" and now I'm planning my first Fair Isle sweater. It will be for that very girl who suggested once per day that I start that dvd, and she has watched me knit my way to this point. I can't imagine a more deserving recipient for a pink sweater with lots of design and detail. She will love it, provided I get moving and get it ready before Christmas!
I only depicted two of the twelve hanks of Classic Elite Renaissance that I bought to make the Central Park Hoodie (from KnitScene Fall 06) from. This should be an awesome sweater to wear everywhere. I hope it takes the place of my gray hooded sweatshirt that I have had since 10th grade!
Next to that, there is a hank of Misti Alpaca Chunky. It's a beautiful and soft yarn. I am thinking of making my aunt a scarf or some sort of neck warmer for Christmas from this.
The Regia sock yarn is for the dearest husband who only really wants finely knitted, black garments. He is so patient and never expects me to make anything at all for him. Because of this, I want more than anything to make him something stellar. Sure, it will be difficult to SEE the cable design I am planning for the armwarmers this yarn will become, but ... he'll actually wear them. They should be thin, but warm, and stretchy enough to look nice. I am hopeful.
I bought three hanks of Reynold's Rapture to make a gift. I wish I had gotten more. It's a 50% silk/50% wool blend. The color is perfect for the aunt who will probably receive that alpaca gift. I would love to use something like this for my mom, but I won't. Possibly for my sister-in-law who is soon to have a baby? I'm not sure what she'd like most from the handknit realm, though. I'm accepting applications for possibilities here! This is a soft, beautiful yarn. I do love it.
I also got some dpns for those armwarmers and for the SOCKS I'm going to begin as soon as the football scarf is done. And some place markers.
That marks the end of my purchases. As you can see, I should have gotten more. Yarn is full of hope, full of the feeling that I get from a full pantry. Something about not having any food is scary, just like the feeling of not having any yarn. When there is a full pantry, complete with dried beans, flour, corn starch, canned vegetables, rice, and cake mixes, I feel like I could feed my family in an emergency, a celebration, or no matter what happens. We will be nourished. And with the yarn, it's the same idea. It makes me feel like I am at home. And, so, for today, I am at home, where I can dream of creation and possibility and things to come. It will be a process in which to drown my numerous stresses and problems so that I can come out on the other end of the project with beauty and luxury.
Tricotez bien et a la prochaine. Bisous.
l.